https://www.ktsm.com/news/las-cruces-musician-recording-artist-randy-granger-to-play-full-moon-show-at-white-sands/
EL PASO, Texas (KTSM) — Las Cruces musician Randy Granger will be the special guest when White Sands National Park kicks off Native American Heritage Month with a concert on Sunday, Oct. 29.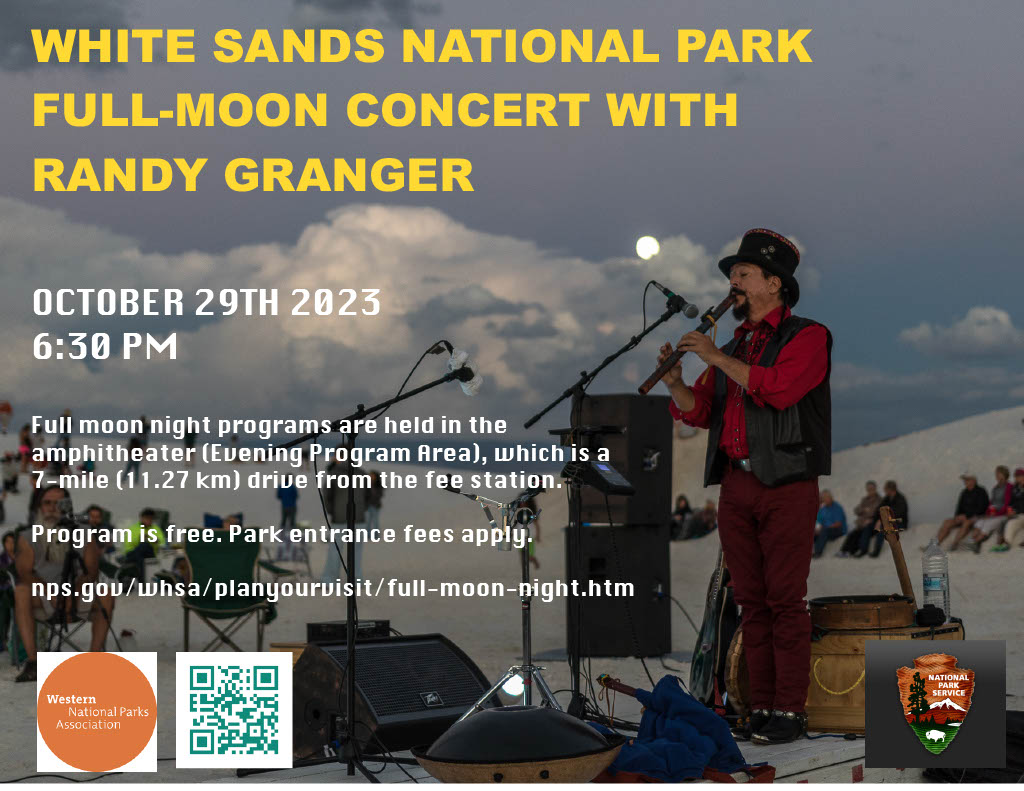 The show is scheduled to begin at 6:30 p.m. that day and will be held in the park's natural outdoor amphitheater.
The concert is also part of the park's Full Moon Night program series.
Granger is a professional musician, storyteller, educator, composer and recording artist.
Granger is a touring solo artist, leads workshops and teaches Native American flute at schools across the country.
"Randy will fill the moonlit night with his unique blend of instruments, interpretation of traditional melodies, and heartfelt music," according to a news release sent out announcing the concert.
The program is free, but park entrance fees will apply. The parking lot will open at 5:30 pm. Seating is not provided at the amphitheater. You are encouraged to set up on the surrounding dunes and bring camp chairs, blankets, and coolers with food and drinks.
A native of New Mexico, Granger is of Mayan and Apache heritage and specializes in the Native American flute, storytelling and other acoustic instruments. He plays and records with numerous percussion instruments, world flutes and stringed instruments.
This is the final of the three Full Moon Night programs White Sands is hosting this year.
"

photo by Greg Bodin Better living through travel By David Salcido, Las Cruces Bulletin Musician, teacher plans a 'spiritual journey' excursion Sometimes the best way to replenish one's mental health reserves is to get away from it all for a while to discover new sites and reconnect with the inner you. To put this notion into motion the Center for Spiritual Living, 575 N. Main St., is sponsoring a one-of-a-kind "Spiritual Journey" to the sky city of Acoma and Canyon de Chelly, with Native American musician Randy Granger through four days and three nights, Tuesday, July 22 through Friday, July 25. Included in the trip will be luxury coach travel, accommodations at the Sky City Casino Hotel Resort and the Sacred Canyon Lodge, as well as tours, concerts, drumming circles and plenty of opportunity to slough off the cares and worries of the work-a-dayworld. For Granger, it's an opportunity not just to make new friends and introduce them to his music, but also to stretch his teaching and meditation muscles. As facilitator of the journey, he will lead meditation exercises in the mornings, to prepare his group for the day ahead, and in the evening, to ease them with relaxation afterwards. All against some of the most spectacular backdrops New Mexico has to offer. "I think one of the major benefits of learning to meditate is to reduce stress," he said. "If you look at the top 10 causes of illness and death in the United States – heart disease, smoking, obesity, diabetes – you find that they are all linked back to stress. There have been a lot of studies about how meditation can help people with coping skills, pain management and improving sleep without a prescription and without side effects. My hope is that, not only will the people who come with us on this journey learn something about the land we live in and their part in it, but also come away with better coping skills that they can use in their everyday lives." Conceived by tour guides Pat and Cindy Breedlove, who have more than 25 years experience conducting tours all over the world, this particular trip holds a little more meaning for them. "We've always done pleasure travel," Cindy Breedlove said. "We have an awesome group of  travelers who have been all over the world with us, but this is the first time we've had a facilitator like Randy.   "It's a unique opportunity that is not real costly, but our objective is to have an experi­ence that is very worthwhile for all who are going with us."   In fact, this particular journey is some­thing they put together in order to better serve the community they live in. Current members of the Center for Spiritual Living, the Breedloves would like to raise enough money to provide the building with some much needed renovation.   "They could use a larger kitchen," Breedlove said. "And a little TLC in other areas."   Even so, Granger points out that though 100 percent of the funds raised will go to­ward this cause, it shouldn't be thought of as a church function.   "We've been reaching out to anybody with an open mind, because we feel they would benefit most from a trip like this," he said.   "This journey is really for anybody with a willingness to experience something dif­ferent, to unwind and to reconnect."   With only 47 seats to fill, at a cost of only $450 per person, chances are good this trip will sell out fast. For more information or to book passage for the Spiritual Journey, call Cindy Breedlove at 202-0885 before July 15.   David Salcido can be reached at 575-680-1845 or david@lascrucesbulletin.com Native American musician Randy Granger plays his trademark flute. Granger will be the facilitator of a trip to the sky city of Acoma and Canyon de Chelly. Las Cruces Bulletin photo by David Salcido I think one of the major benefits of learning to meditate is to reduce stress. RANDY GRANGER, trip facilitator" - David Salcido
"

A Place Called Peace Native American flute player and percussionist Randy Granger displays his versatility on A Place Called Peace, an album kicked off by the title vocal track (Za Zee Za Zu Zing) exploding with cheerfulness and energy, buoyed by thoughtful lyrics. Besides playing flute and singing, Granger also displays a strong hand on the hang drum (an instrument which continues to gain in popularity). Talk about firing up a CD n the first song! It's not often (as primarily a reviewer of instrumental music) that I hear a vocal which makes me think "Boy, I hope the artist sings another one" but that was my reaction here. After this opening cut, the remaining seven tracks are all instrumental, encompassing a variety of tempos and moods. The Dog Star is a plaintive and haunting solo flute number, and, I would suspect, perfect for star-gazing in the clear desert sky. Granger has excellent technique on the lower register flute which he plays on this piece. Chaco Moon Meditation veers from its title's evocation by virtue of its fast tempo hang drum rhythm and the relatively uptempo nature of the flute. However, Granger's flute work here is still haunting enough to perfectly capture the image of a moon being "chased" by wispy clouds. Ghost Dancers evokes a strong Native American influence with tribal drums and traditionally-pitched wooden flute. There is an inherent sadness at work here, as well, and over-dubbing Granger's flute with accompaniment on other flutes only lends more power to the song. The higher pitched flute solo in the track's midsection might send chills down your spine! The soothing yet plaintive Grande Lullaby made me long for more like it. The cut reminds me of Coyote Oldman's recordings, which is meant as a huge compliment. Apache Tears once again combines tribal drums (as well as shakers) with Granger's flute once again illustrating a notable Native influence. The music flows along on currents of sadness and regret as well as bearing the majestic beauty which this wooden instrument alone seems to be able to covey. Double-Barrel Train Wreck has to be heard to be believed...Granger plays as if he has a third lung! I got tired just listening to this astounding display of breath control and musicianship! Closing out the CD is Ancestor's Ocean Voyage, the most energetic and highly charged song on the album, featuring not just flute and drums but also didgeridoo. Propelled by energy and passion, the cut sandwiches its vitality between opening and closing passages featuring what the liner notes refer to as "ocean drum. Randy Granger's name deserves to be listed with other renowned Native American flute players, both Native and Anglo, because he obviously has both the chops and the artistry to warrant it. A Place Called Peace illustrates that he is not just a gifted multi-instrumentalist but that he "feels" the music with a sincerity and emotional honesty which can't be faked. I solidly recommend the CD and I'd encourage the artist to continue exploring the incorporation of vocals among his strong instrumental work. That first song out of the chute really caught my attention! Rating: Good + Good + - reviewed by Bill Binkelman on 7/21/2009" - Bill Binkleman
"

Randy Granger had a wonderful day shooting a music video at City of Rocks State Park. "It was super windy, though," he says. "It was southern New Mexico in the spring." Granger is a New Mexico musician who specializes in the Native American flute. He will be performing at 2:30 p.m. Saturday, April 25, on Stage 49 at the Gathering of Nations. Granger will be playing material from his latest album, "Ancient Grace." In fact, for the past few months, Granger has been heavily promoting the album. "Getting the songs out to radio stations, it takes a lot of time," he says. "Marketing it out to the world takes a lot of my time." New Mexico musician Randy Granger will perform at the Gathering of Nations. Granger worked on the album for about four months. He shifted the way he works to accommodate working on the album while on the road. "The album was influenced by the flute," he says. "It's a complete album of solo Native American flute." Granger began to play the flute in 2004 while he was traveling to all the northern pueblos. "I was doing health education up there and I would often hear this sound in music," he says. "I found out what type of flute it was and immediately felt drawn to it." It's been about six years since Granger performed at the Gathering of Nations. He's looking forward to performing for a big audience. "The atmosphere is amazing," he says. "This is one place where Native American culture can be celebrated with a huge crowd."" - Adrian Gomez
"

'An Iliad' returns, 'Killing Buddha' debuts at Black Box Theatre By Zak Hansen Las Cruces Bulletin In 2014, actor/director Algernon D'Ammassa set out to bring to the stage of the Black Box Theatre the Obie Award-winning "An Iliad," an adaptation of Homer's famed epic "The Iliad." Written by Lisa Peterson and Denis O'Hare and based on Robert Fagles' translation of the ancient poem, "An Iliad" is a modern retelling of the Trojan War, "of the gods, warriors, families and endless battles of human history updated with an enthralling contemporary voice," presented to the audience by two vagabond troubadours. Debuting in Las Cruces at the Black Box Theatre 2014, "An Iliad" was a hit, garnering critical acclaim and sold-out performances, before touring throughout New Mexico, Texas, Arizona and North Carolina – then returning in 2015 for another string of stellar shows. In her review of last year's production, Bulletin reviewer Marissa Bond said, "I like this play so much that it sounds like I'm lying." Bond's piece closed, "'An Iliad' will leave you raw, present and gone, all of these things – perhaps, even as I was, mouth slack, stunned and unmoving in the theater dark, keening some internal, thunderous, minor-chord yawp for what creatures we are – the beauty and brutality of our past and present and the fine, deliberate art that can make us know and feel so much more about ourselves as a people than only living will sometimes illuminate." D'Ammassa and Granger will return to the Black Box stage Friday, Feb. 12, for one performance of "An Iliad," in advance of the premiere of the duo's first original collaboration and "unofficial sequel," "Killing Buddha," opening the next day, Saturday, Feb. 13. Of his decision to follow up Peterson's and O'Hare's challenging, rewarding production, D'Ammassa said, "Randy and I have so much fun doing 'An Iliad,' but we are also bound to a script and wanted to explore the characters we were playing and interact more," giving the duo to further test the bounds of the characters they've evolved with over productions of the piece. "In our interpretation of the script (for 'An Iliad'), Randy and I are homeless wanderers who are, you get the impression, thousands of years old. They were alive when Troy fell. So we wondered what was possible if we saw the same guys on a different night and they told a different story. "Killing Buddha" is the result. "It's based on a very old Buddhist fable about the Buddha's encounter with a murderer (Angulimala) who wants to atone," D'Ammassa said. "Like the Iliad, it speaks to many questions that still torment us about violence, criminality, the limits of forgiveness, the purposes of punishment (including capital punishment). So we went with it." The duo's creative process in creating "Killing Buddha" was fittingly unconventional. "I wrote a script. Randy read the pages and listened to recordings of me reading from the script and improvising, wrote some new music and incorporated one of his extant songs. The first time we went through the whole thing together, it was in front of an audience!" That audience was a 20some member crowd at the August 2015 Great Salt Lake Fringe Festival, held annually in Utah. "It's a week packed solid with theatre, music, dance, visual art, scattered across several venues in the 'sugarhouse' neighborhood of Salt Lake City," D'Ammassa said. "It's a blast. Las Cruces should start one." D'Ammassa said he "applied on a lark." "Randy was touring the western states anyway, and it gave me a useful deadline for getting a new play written. It was terrifying because we did not get a chance to rehearse together until our two-hour light check the day before the festival. Like I said, the first time we ran throughthe piece together was in front of our first audience, about 20 people." First-run jitters notwithstanding, "Killing Buddha" generated quick buzz and, by the close of the festival, had taken home honors. "Word spread and by the next day, we were filling the space and on the last night of the festival they announced we had won the 'Fringe Pick' award, which is chosen by the festival's board and staff. That means an automatic invitation to come back this year, which we plan to accept. We had a blast up there – and in the end, we made enough money that the trip paid for itself and perhaps an ale or two." While "Killing Buddha" has a finished script, it, like "An Iliad" by design is very much a work-in-progress play. "There is a written script, but I'm still altering it on my feet," D'Ammassa said. "I would take a little recorder and go outside, just start riffing on the story in Spring Canyon and Rockhound Park in Deming. I began typing some of it out and had a script about a week before the festival, right before I started driving to Salt Lake City." Taking D'Ammassa's written script and recordings, Granger listened through, coming up with "ideas about instruments, moods, colors … But mainly what he does is set up various instruments around the space – flutes, percussion, strings – and plays whatever he feels in the moment," D'Ammassa said. This improvisational take is key to the work's success. "Like I said: I never expect the music to illustrate what the words say, I just wanted his breath and his music to flow as they will," D'Ammassa said. "I think it keeps the event fresh. I'm beginning to feel hemmed in having a script at all. Someday we'll do a show with no script. Just set up instruments and a few props, say hello to the audience, and let something unfold." Though thematically linked, "Killing Buddha" jumps from ancient Greek history to Asian folklore – quite a leap, but not, perhaps, as much as one would expect. "The great thing 'An Iliad' pulls off is to scaffold a story across time and culture," D'Ammassa said. "That's what the storyteller does. "Achilles and Hector are like people we know. So is Andromache. Agamemnon. Helen. Even the gods function in ways that seem familiar, like world leaders whose vagaries affect our lives from afar. The Greeks in their ships heading to Troy under the command of Odysseus or Nestor are very much like the boys from Clovis or El Paso who get sent to Afghanistan or Iraq, my grandfather on a battleship, my father in Viet Nam." Though D'Ammassa recognizes Eastern modes of thinking may seem distinctly foreign to some, he feels otherwise. "If anything, I guess Buddhism and its stories are even more alien to some Americans, but for me Buddhism has always been very American," he said. "My teachers and brothers and sisters on the path have mostly been American or European. So I'm used to hearing and telling Buddhist stories in ways that bridge the cultural gap. In some sense, the story of Achilles and Hector, or the story of Buddha and this murderer and a very puzzled king, have to become your story. That's what this project is about." In that sense, "Killing Buddha" is less a sequel and more a companion piece to "An Iliad," complementing and critiquing one another in surprising ways. In D'Ammassa's words, "'An Iliad' focuses on rage and organized violence, war. "Killing Buddha' talks about personal violence, terrorism, and asks how much we really believe in rehabilitation or atonement. 'An Iliad' ends with an elegy, and I think 'Killing Buddha' ends on a note of redemption." "An Iliad" has one performance at 8 p.m. Friday, Feb. 12. Performances of "Killing Buddha" are 8 p.m. Saturday, Feb. 13 and 20, and Friday, Feb. 19, as well as a 2:30 p.m. matinee Sunday, Feb. 21. Tickets for all shows are $12 adults and $10 seniors and students. For tickets, to make reservations or for more information, call 523-1223 or visithttp://no-strings.org. For more information on Theatre Dojo including upcoming productions, visitwww.facebook.com/algernoniliad. Zak Hansen can be reached at zak@lascrucesbulletin. com. Musician Randy Granger and actor/director Algernon D'Ammassa bring their acclaimed "An Iliad" to the stage of the Black Box Theatre for one show Friday, Feb. 12, in advance of the debut of the duo's new original work, "Killing Buddha," which premieres Saturday, Feb. 13. " - Zak Hansen
"

White Sands to Celebrate the National Park Service Centennial with Full Moon Night Concert By WHITE SANDS NATIONAL MONUMENT • 17 HOURS AGO SHARETwitter Facebook Google+ Email  CREDIT WHITE SANDS NATIONAL MONUMENT   Alamogordo, NM – White Sands National Monument will continue the year-long celebration of the National Park Service Centennial with a full moon night concert featuring Native American flutist Randy Granger on September 15 at 7 pm. In addition to the concert, the new White Sands Girl Scout patch will be unveiled in partnership with the Girl Scouts of the Desert Southwest Council.   The National Park Service Centennial kicks off a second century of stewardship of America's national parks. One goal of the centennial is to engage youth in national parks. "We are excited to work together with the Girl Scouts of the Desert Southwest Council to create an opportunity for girls to enjoy, explore, and learn about White Sands National Monument and their national parks. We hope as girls work to earn the White Sands patch, they along with their friends and families will create positive memories that last a lifetime," stated Superintendent Marie Frías Sauter.  White Sands is hosting a variety of special events this year in celebration of the centennial including full moon nights and Step into the Past programs. The final full moon night for 2016 will feature the Chance Ensemble presenting John Muir University of the Wilderness on October 16 at 6:30 pm.  Relief, Recovery, and Reform: The New Deal and White Sands National Monument on Saturday, November 5th at 1 pm will wrap up the special events for 2016. For more information about these programs, visitwww.nps.gov/whsa. http://krwg.org/post/white-sands-celebrate-national-park-service-centennial-full-moon-night-concert  "
— KRWG.ORG