I find myself back in Joplin, MO JOMO doing a concert exactly two years after I was here last time. I am always inspired by how the community came together after the 2011 F5 tornado. The F5 tornado killed 161 people. It shredded entire neighborhoods. More than 900 homes were lost. Big box stores collapsed. The destruction was complete, the landscape rendered foreign. There are huge swaths of land that simply didn't exist afterwards. Instant fields.
As I spoke with folks here and heard their stories I learned how a dominantly white, conservative town dropped those walls to help each other out. Countless stories of people unselfishly letting people into their homes, feeding, clothing, sharing and giving. Joplin, by all accounts, is a different community now. A better community. You still see poor mostly white people here in need. Meth, rhythm etc. are a problem, but even with that you have small pockets of people coming together to address those issues.
Before the tornado of May 22, 2011, Joplin had been in serious decline with businesses boarded up downtown, jobs existent, the mine had closed and Joplin had pretty much been written off. It is a very conservative, white, christian based town with many churches that dominate the culture. What I've heard is that after the tornado is that people came together and it literally brought people together to help and search for survivors in the destruction. Even Obama, who came a week after, was received so well with only one protester from the Westbury Baptist church, those idiots. But, he was escorted away, thankfully.
After the disaster stories of beings who protected, shielded and helped survivors began to circulate. Numerous stories from all kinds of people were spread. These stories all talked about these beings with wings who would help and wrap their wings around people. Even stories about the "Butterfly People" ferrying the ones killed up to the sky were told by many. They didn't call them angels at all. Instead they looked to people like human like butterflies. Read these accounts below or look them up. There is even a Butterfly Mural in town along with a huge growth of murals in Joplin.
There are so many stories about the Butterfly People from people of all faiths, backgrounds etc. Some are here of them: http://www.abovetopsecret.com/forum/thread797294/pg1
The tornado unleashed stories about death and unlikely survival: A teenager sucked from an SUV, a toddler plucked from his mother's arms, houses that exploded in 200-mph winds as families huddled in bathtubs and closets. For months, just about any place people gathered, the stories spilled out, including stories about the butterfly people.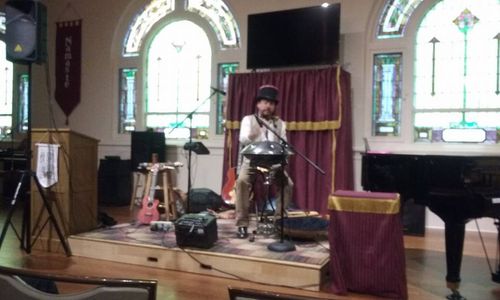 "Pastor Wermuth also told of a church across from the Joplin High School where people had gathered early for the evening service. They were told to get to the basement quickly. (There was one casualty in that location.) All four walls of the church fell to the basement, trapping the people underneath the rubble. Six large men arrived and lifted the four walls up, allowing the survivors to climb out. When rescue squads arrived and inquired how they got out, everyone had the same report: Six big men lifted the walls up and allowed them to climb out. And when everyone was out, they walked away, saying they had to go dig others out. All were very descriptive and emphatic about the six large men-all telling the same story the same way to the rescuers. The rescuers in disbelief explained, there is no way 6 men can lift all 4 of these walls."
http://www.stltoday.com/news/local/metro/the-butterfly-people-of-joplin/article_cca48b1a-282b-587d-902b-cd5f09ca8516.html
My concert and workshop were wonderful. The Joplin Globe ran a great article and it helped bring folks out. You have no idea whatsoever as an independent musician, who and how many people will come out to your shows ever. It is scary and a nervous faith game. I'm so grateful for those who came out yesterday and last night. Also for my friend the minister of Unity of Joplin here, Gordon Keylor, for hosting me and promoting it so well. Very grateful for friends like him. I know him from New Mexico and we share stories and a love of green chile and the Land of Enchantment.
I'm off to perform a House Concert in West Des Moines and stay with good friends there too. I could not do what I do and make a living at it without my many good friends around the country. After Iowa I'm off the World of Faeries Festival in S. Elgin then Chicago Stomp before rushing back to New Mexico to teach music educators around rhythm and movement. Check my calendar for details.
Randy